Campaign Volunteers Information
Welcome!
Thank you for agreeing to be a Division or Unit Coordinator for MSU Shares. As you probably know by now, MSU Shares is the new name of the Michigan State University Community Charitable Campaign or MSUCCC. As with the MSUCCC, MSU Shares is a campaign devoted to raising funds for local charities through the support of the Capital Area United Way.
For those of you who have served as a coordinator in the past, your job remains the same, as it does for new division coordinators: Get the word out about the annual campaign to past and prospective MSU contributors, so we can realize the greatest campaign fundraising success. This includes all faculty, staff and retirees of MSU.
For Vice Chairs and Group Coordinators, this means:
Make sure there is a Unit Coordinator in each unit and/or Group Coordinators in multiple units. Inform Jeff or Craig of any Unit Coordinator who leaves the unit or quits the campaign.
Answer coworkers' questions about the MSU Shares Campaign, referring question you cannot answer to Craig.
Pass along info from Co-Chair to Unit Coordinators and pass info on how the Campaign is going to the Co-Chairs.
Promote the MSU Shares campaign to everyone!
Our campaign's key messages are:
Pledges to the campaign help support the health, education and financial stability of more than 120,000 people yearly in the tri-county area, many of whom live or work close to campus.
Whether for health care, transportation, personal safety, or even the most basic necessities of food and shelter, our pledges do make a huge difference in our neighbor's lives.
There are many reasons to give back, and it is much more than being "the right thing to do." It reflects on who we are as people - it demonstrates our compassion and our concern for the wellbeing of the extended Spartan family, beyond the edges of campus.
Giving back can also strengthen our community, and a strong community with a higher quality of life is more inviting for everyone including our incoming students.
But, most of all, it feels good when we share. Knowing that you've helped to better the life of someone else is a great reminder to appreciate what you have.


---
Campaign Toolbox
As a unit volunteer, you are asked to encourage your department/unit to participate in the campaign. Listed below are a few ideas for your consideration:
Share a special message from yourself encouraging colleagues to make a pledge. Here are some topics/themes to follow:

The Campaign is Here! (send in October)
Giving Season: It's the Most Wonderful Time of the Year (send in Mid-November)
March to the Finish (send the first week of March)
Share a note from your unit's dean, director or chair: 
Share stories from those whose own lives who were impacted through the assistance of a local health or human service agency.
Share social media posts from MSU Shares to your department's social accounts or use some key sharing messages


Invite a Capital Area United Way Representative to come and speak to your group during a meeting or other event

Contact Capital Area United Way Liasion Nick Lynch at n.lynch@micauw.org to set up a representative
Display MSU Shares posters in a prominent location.
Volunteers at the 2021 MSU Homecoming Parade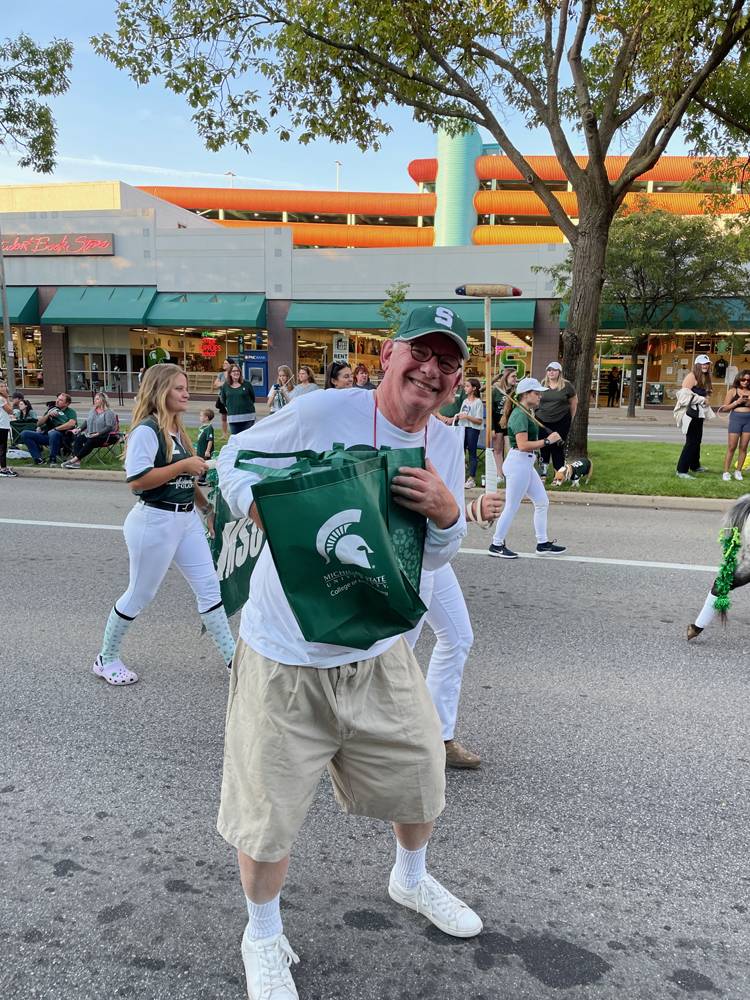 ---
 Current List Chairs, Group Coordinators and Unit Volunteers
---
Questions?
Contact the Campaign Co-chair for more information.
Craig Gunn
gunn@egr.msu.edu